What is the difference between Microsoft OneDrive, SharePoint, and Teams?
What is the difference between Microsoft OneDrive, SharePoint, and Teams?
Introduction
Cloud-based collaboration tools have become an essential part of corporate work environments. It is only easy to picture contemporary office life with online chat software, file-sharing services, and project management applications. Such tools allow you to work with a project team in different countries, keep in touch with remote colleagues and clients via message boards or video conferences, and track projects involving multiple people and documents.
Microsoft has been a leader in cloud-based collaboration tools and continuously invests in developing new technologies. This article summarizes the main features and differences between Microsoft OneDrive, SharePoint, and Teams.
Microsoft OneDrive
OneDrive is a web-based file storage and synchronization service offered by Microsoft. It is integrated into Office 365, meaning all users have an active subscription. All data uploaded to OneDrive is stored on a cloud. A user can install a OneDrive for Business client to access it offline and use special synchronization tools to keep files in sync between multiple devices.
OneDrive allows users to upload files, organize them into folders and share them with others online or via sharing links used by others by default. Files can be shared either publicly or with specific people. OneDrive can be used to store and sync local files as well. It is also possible to create folders that are not shared with anybody. This can be useful for storing private data and keeping them out of public view. OneDrive has a document library where users can store and organize files they create in Office Online applications. This way, a user can create private folders and set sharing permissions.
Microsoft SharePoint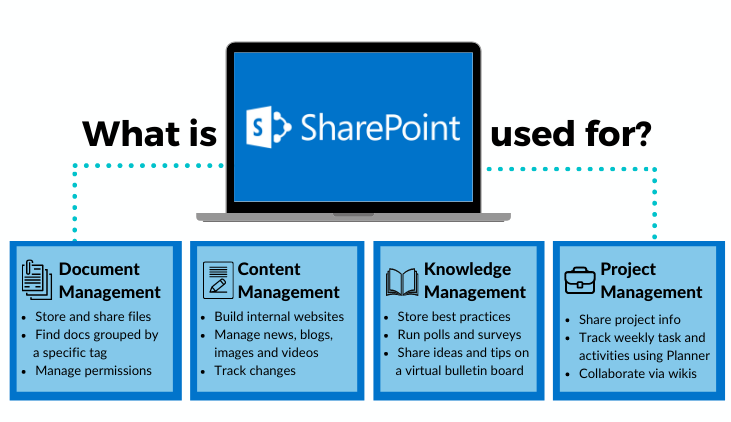 SharePoint has a document management and collaboration system that manages archives, documents, reports, and other elements required by an organization's business processes. SharePoint's content management tools can help companies of all sizes in any industry and department within the business.
SharePoint is based on the web and is implemented via a browser. It offers most of its functionality through web applications and web browsers (web interface or UI). SharePoint is utilized to manage content and site structure, create and delete sites, activate and disable product features, configure basic workflows, and manage analytics.
SharePoint is best used in two main ways: Collaborating with others and publishing files for others to view. Team sites are great for collaboration, while communication sites are ideal for publishing files. Team sites are for working together on a task or project, for example, a sales presentation. Communication sites are to publish content that others will view, like a corporate website or information about your company's products and services.
Microsoft Teams
Microsoft Teams is another online collaboration tool that is part of Office 365. It allows people to chat, share files and collaborate on projects. It is similar to Slack in some respects. Teams are private or public, and users can create groups for specific people or all employees within a company. After creating a team, a user can upload files and share them with others who have access to the team. Teams also have message boards where users can post messages and keep everyone informed about what is happening. It is possible to have video conferences as well.

What Are The Key Differences Between Microsoft Teams, SharePoint, And OneDrive?
Microsoft Teams is a communication plugin created for online instant messaging with team members. SharePoint is an online platform that allows users to create internal websites for effective communications and management documents. OneDrive is an online service that can be used to back up files online and is also suitable for home, business, and family use.
SharePoint quickly arranges vital business documents to ensure smooth management and regulatory compliance. In contrast, OneDrive fulfills both private users who wish to back up their files and professionals who wish to collaborate.
On the other hand, Microsoft Teams is based on Microsoft Skype and is designed to increase business communication efficiency. Teams integrate with Microsoft Office and allow users to communicate via chats, share files and manage team projects. Teams also has a feature that allows you to add external users who do not work for your company or organization.
One big difference between OneDrive, SharePoint, and Teams is how they are accessed.
With SharePoint, you have a web interface where all the functionality is available for selection using a mouse click. With OneDrive, if you use the web storage and synchronization service to store and back up files, you need a browser to navigate through them. With Teams, you have to use a web-based way to communicate with your team members.
Another difference between OneDrive, SharePoint, and Teams is how they are used. With SharePoint, you have a web interface that allows people to collaborate on documents and keep records of vital business information. With OneDrive, users can access and edit files via a web interface, through a desktop application downloaded from the company website, or offline by downloading the Microsoft OneDrive for a Business client onto their home computer. With Teams, a user has to use an online way to communicate with his team members.
Conclusion
In conclusion, Microsoft OneDrive, SharePoint, and Teams offer various collaboration solutions that a company can use to keep employees in touch with each other, let them share documents, and work on a project together. Microsoft OneDrive is a cloud storage and file-syncing tool that complements Microsoft Office. SharePoint is an online platform for creating internal websites that help companies to manage vital business information, documents, and files. Microsoft Teams is a communication tool that businesses can use to engage employees in productive and efficient communication.
– Dr. Bennet Hammer
Contact DAG Tech to learn how to implement these technologies for your organization